OPAQUE
A GREY COLORED ROOFING SHEET THAT DOES NOT ALLOW LIGHT TO PASS THROUGH IT AND IDEAL FOR ROOFS AND WALLS.
Composed of a mixture of resins and fiberglass which provide a long-lasting roofing sheet.
Applications: Industrial buildings, warehouses, poultry fams and piggeries and farms, cooling towers, food silos, chemical facilities, etc.
0% water absorption, a roofing sheet that prevents the accumulation of bacteria or fungi. Prolet, a hygienic, anticorrosive and durable roofing sheet.
Because of the roofing sheet's composition it only comes in grey, it's UV inhibitor which provides excellent thermal and acoustic insulation.




At Letsa we assess the aging and resistance of our roofing sheets which allows us to guarantee the quality of our products.
Samples are subjected to a 5% concentrated Sodium Chloride solution in a chamber with controlled temperature and pressure.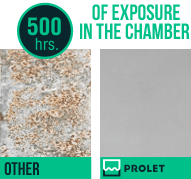 Get to know more about our products, their quality and resistance in the following videos
EXPLORE SOME
APPLICATIONS

01 800 2LAMINAS
Call toll-free and we'll gladly answer
your questions and take your order
LETSA roofing sheets thanks you for your preference!